Howling Wolf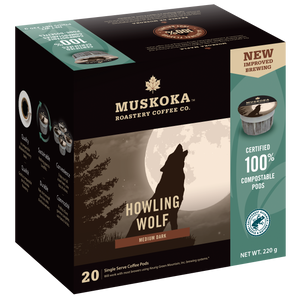 Howling Wolf
Rich, deep, well-rounded flavour and aroma, that captures the untamed spirit and natural beauty of Muskoka.
This updated Keurig compatible Pod 2.0 uses innovative new technology to provide incomparable single-serve brewing.
*Pods are compatible with Keurig branded brewing systems but will not work in Hamilton Beach, Ninja or other non-Keurig brewers.
About the coffee
Algonquin Park is home to the Eastern Wolf, which travels in packs across territories that range from 150 to 500 kilometres in size. Given that the front door of the Roaster is 35 km from the park, wolves are a not uncommon siting. What is even more common is to hear the pack howling at night, which is what inspired this distinctive coffee. The profile brings out the best in the exotic East African beans in the blend capturing the wild character of the wolves at our doorstep.